Haunted/History Trolley Tours
Reservations Required
We'll Drive – You Focus on Fun!
Experience Wolfeboro's History and Mystery
on a 90-minute "Haunted History Tour"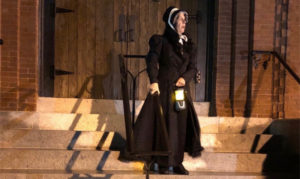 Maude Taylor, a Wolfeboro Falls School teacher from the 1800s (portrayed by Kathy Fairman) will recount more tales of this historic town as Molly wanders from her regular route. 
$35.00 PP (Must be at least 12 years old)
7:00 PM Departs Wolfeboro Railroad Station
32 Central Ave, Wolfeboro*
2023 Schedule
Thursday September 28th
Thursday October 5th, 12th, 19th & 26th 
*RESERVATIONS ARE REQUIRED
(Passengers will want to be prepared to get off the trolley a few times during the tour to enjoy the full experience)
All "Haunted Trolley Tour" ticket includes entry in a drawing to win a signed copy of the 1976 book Remember When…A Collection of Old Photographs of Wolfeboro, NH.   A book will be given away at the end of each tour.