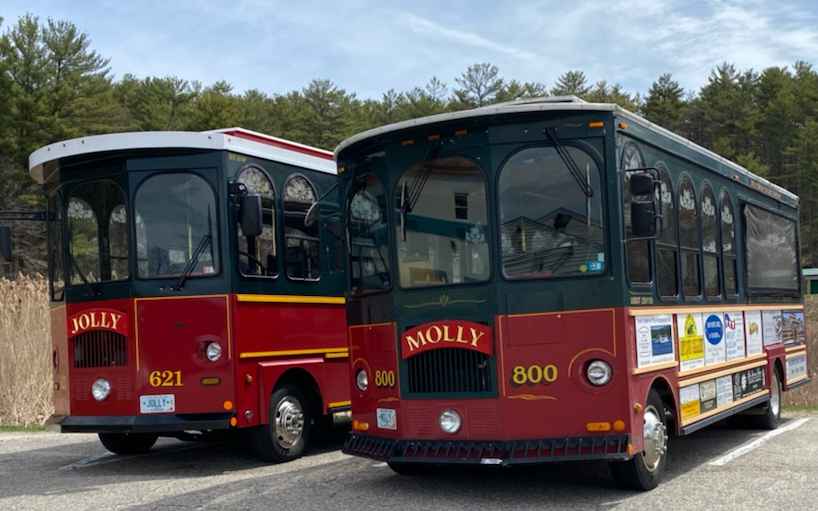 Our Trolleys
"Molly" and "Jolly" look much like trolley cars from the late 19th century only freed from tracks and cables, with open air seating in the back when the weather is nice, and enclosed, clear side-curtains, a door and heat when it is not. Their oak seats, brass rails and etched windows are reminiscent of earlier days when the ring of the trolley bell urged people to hurry to catch their ride.
Built by Molly Corporation in Wells, Maine, their red and green superstructures, constructed primarily of stainless steel, aluminum, and oak sit on a motor home chassis powered with a Ford V-10 engine.
"Molly" has been introducing visitors to Wolfeboro since 1987 with narrated Hop On/Hop Off Tours and Special Excursions, a job she and her experienced drivers relish. She also provides fun, festive transportation for Private Charters from April through November.
Our Team
The Wolfeboro Trolley Company, Inc was established in 1987. Owner Kathy Fairman Eaton is one of several veteran trolley drivers who return each year to share Wolfeboro's "story" with new and returning riders and provide festive and safe transportation for many private events, including dozens of weddings every year.
Who are they?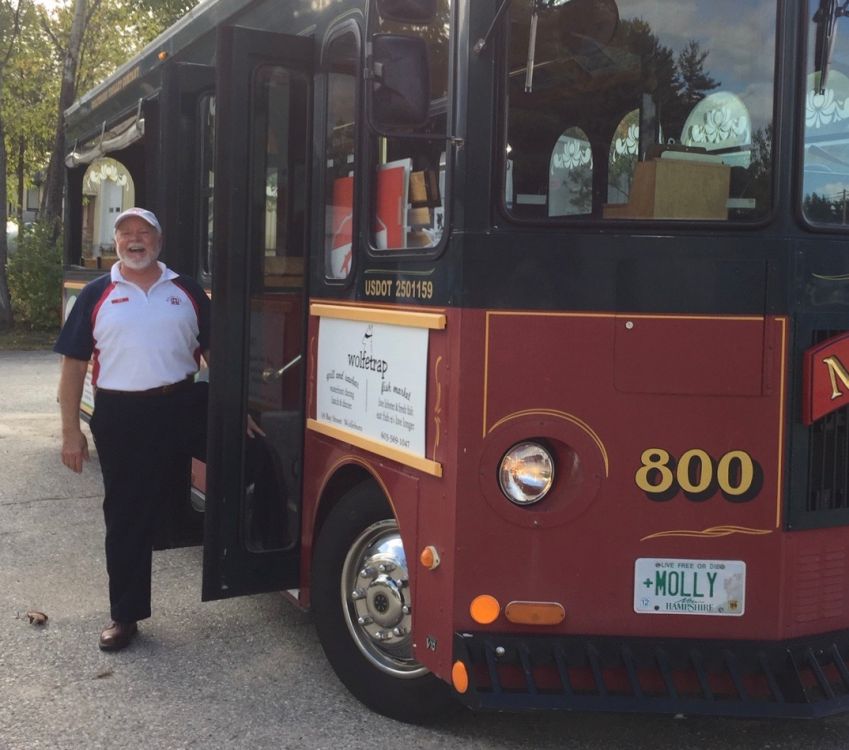 Ken Berglund
"Giving the tours helps me appreciate why I'm here. They (the passengers) think I am so lucky to live in this beautiful area and have such a fun job. And they're right. Doing the tours also gives me a reason to learn more about what to do, about the history. Then I can honestly say, 'I was reading last night and …" Ken has been with the Wolfeboro Company for 11 years and calls driving trolley his "second" retirement job. "I'm proud to be associated with the Wolfeboro Trolley Company. People respect it and appreciate us."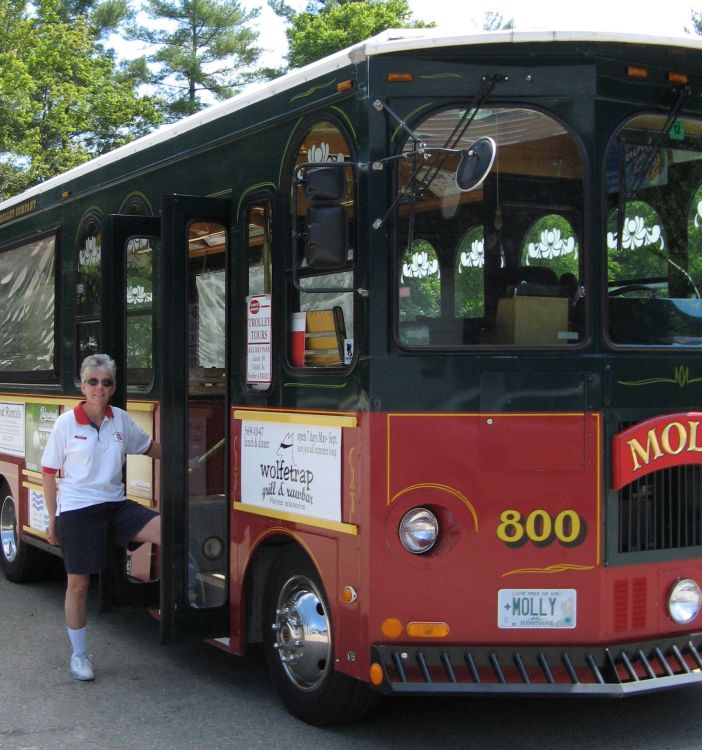 Kathy Fairman Eaton
"I love driving the trolley and introducing visitors to Wolfeboro, sharing our town's rich colonial history, and all the great things to do and see.
I especially enjoy and appreciate our locals who come back every year with their children and their grandchildren. We have brides and bridegrooms who rode Molly the Trolley as kids!"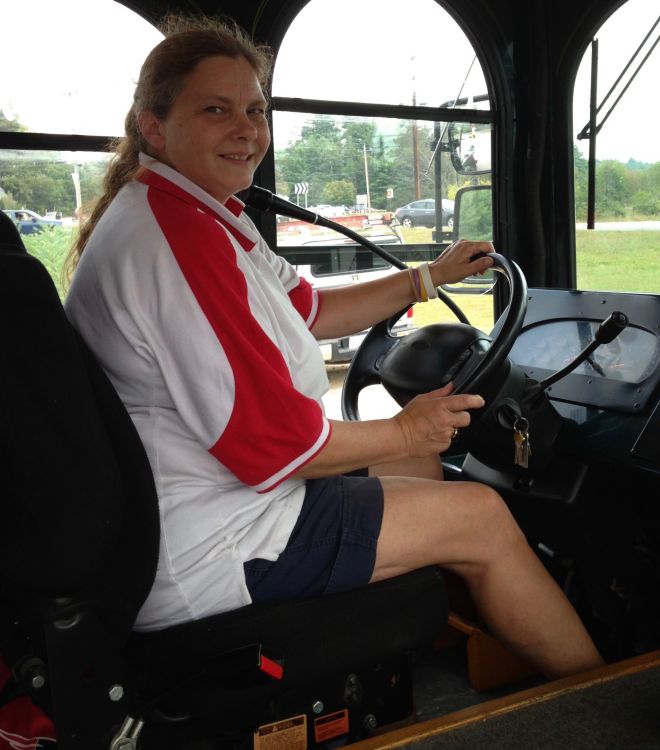 Sandy MacMartin
"It's the best summer job ever!" As director of Lakeside Academy during the school year, Sandy has her summers off, and has spent the last 12 of those driving Molly the Trolley. "It's just so different from teaching; a real break. You meet all sorts of people. I love making them happy and showing them our town. Driving weddings is so great. These people are here to have the time of their lives and we help make these very special days go just a bit more smoothly."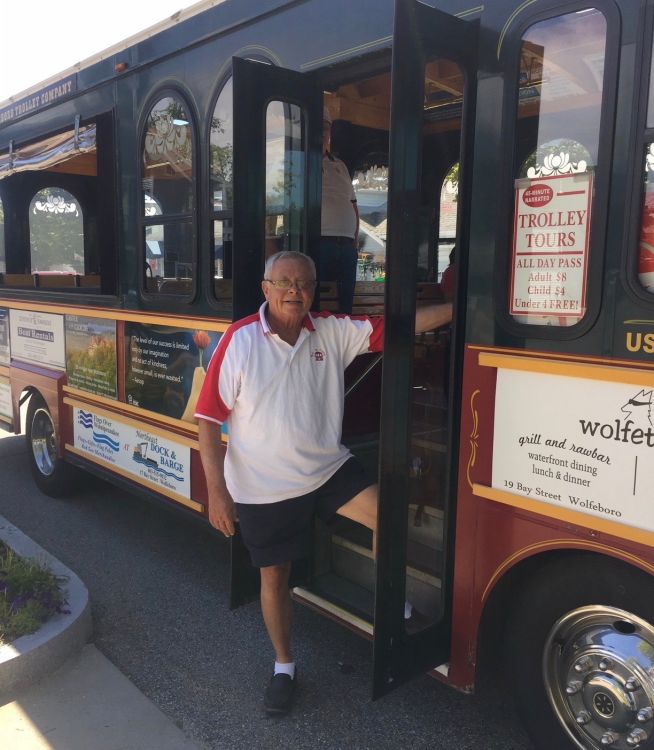 Don Stantial
A summer resident in neighboring Melvin Village for most of his life, Don has been driving Molly for almost 25 years. "I just love driving and history, especially of this area, and Molly's definitely my favorite vehicle." That's saying something. As a career driver for Boston Coach Company, Don's driven everything from limousines to motor coaches.
"Some guys like to play golf, and that costs money. I like to drive trolley, and that makes money."