COVID-19 Update
SAFETY FIRST That has always been Molly the Trolley's top priority. Here's what she's doing this summer to protect her passengers and drivers:
Hop On 'n Off 45-minute Open-Air Tours are running with limited seating to ensure appropriate distancing between parties. Passengers over 12 years old must wear face-coverings (complimentary masks available).
While getting on and off the trolley, parties should maintain safe distances from other parties. Hand sanitizer is available and recommended.
Private Charters available.
Haunted/History Trolley tours will be back this fall.
Check Before You Go!
Some businesses or activities described on Molly's website may not be open or have revised schedules this summer. We recommend checking on-line or calling to avoid disappointment.
Discover Wolfeboro
On An Open-Air Narrated
Trolley Tour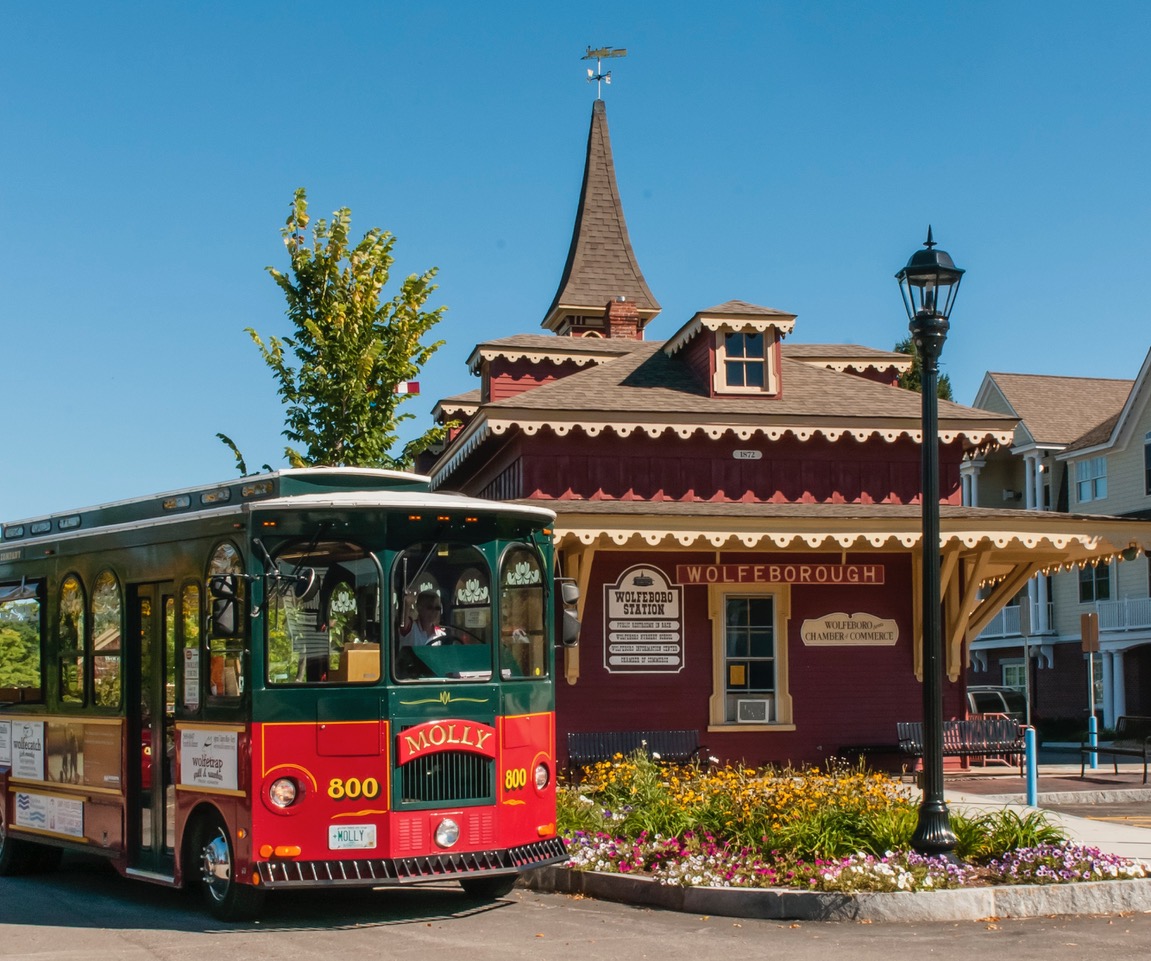 Hop On & Off
All-Day
Adult $8
Child (4-12) $4
Under 4 Ride Free
Tours Depart
On the Hour
From Dockside
On the Half-Hour
From railroad Station
July & August Daily 10-4
Spring & Fall Wknds 11-2
Molly the Trolley
Underway for 2021!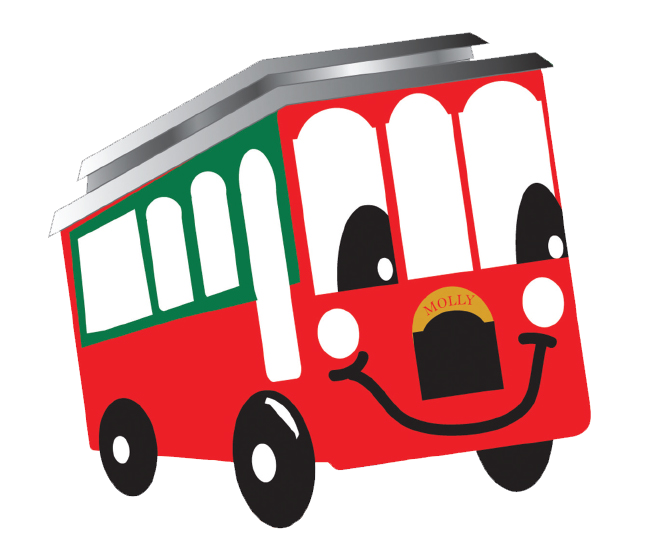 Molly the Trolley is on track to resume her regular schedule this year, optimistic that 2020 pandemic-related curves in the road are in her rearview mirror.
Molly opened her season with private charters in April and will begin open-air narrated trolley tours on weekends in June and run daily starting Sunday, June 27 through Labor Day, then weekends through Columbus Day.
"Like all non-essential services, we were shut-down last spring," said Owner Kathy Fairman Eaton. "This spring is very different. We have over a dozen weddings booked before the end of June and we are anticipating a busy summer, especially with our open-air tours."
"Passengers appreciate that Molly has open sides and open windows," she explained. "And we will continue to follow CDC recommendations. After all, passenger safety has always been Molly's first priority."
Molly ran last summer with a reduced capacity and reduced hours to space passengers and drivers safely, but Kathy said those who came, especially families, appreciated that the trolley was running. "It was something fun to do and we're going to have a lot more of that this year," she added.
It is fun to ride Molly, a replica of trolleys from the 1800s with oak benches, brass rails and bells. In addition to scenic views of three lakes, (Winnipesaukee, Wentworth and Crescent,) and beautiful waterfront homes, the narrated tours are rich with information about things to do and see in Wolfeboro with bit of the town's colonial history. If the kids aren't careful, they just might learn something.
Tours typically start on the hour from 10-4 from the Wolfeboro Town Docks and on the half-hour 10:30 to 3:30 from the Railroad Station, 32 Central Ave in July and August and on the hour from 11-2 from the Town Docks and on the half-hour 11:30-1:30 from the Railroad Station in the Spring and Fall. However, it's recommended to call (603-569-1080) or check the schedule on Molly's FaceBook page as she may be on a private charter.
Visit wolfeborotrolley.com or call 603-569-1080 for more information about tours, special events and private charters.